TEAM ::: CLEVELAND INDIANS
LOCATION ::: CLEVELAND, OHIO
MY FIRST GAME ::: JULY 11,2003
OPPONENT ::: CHICAGO WHITE SOX
FORMERLY KNOWN AS ::: JACOB'S FIELD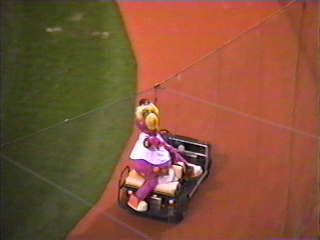 RATINGS

BALLFIELD ::: A
SCOREBOARD ::: A
FOOD ::: B+
FACILITIES ::: B
MASCOT ::: A
MLB STADIUM RANK ::: 20 OUT OF 40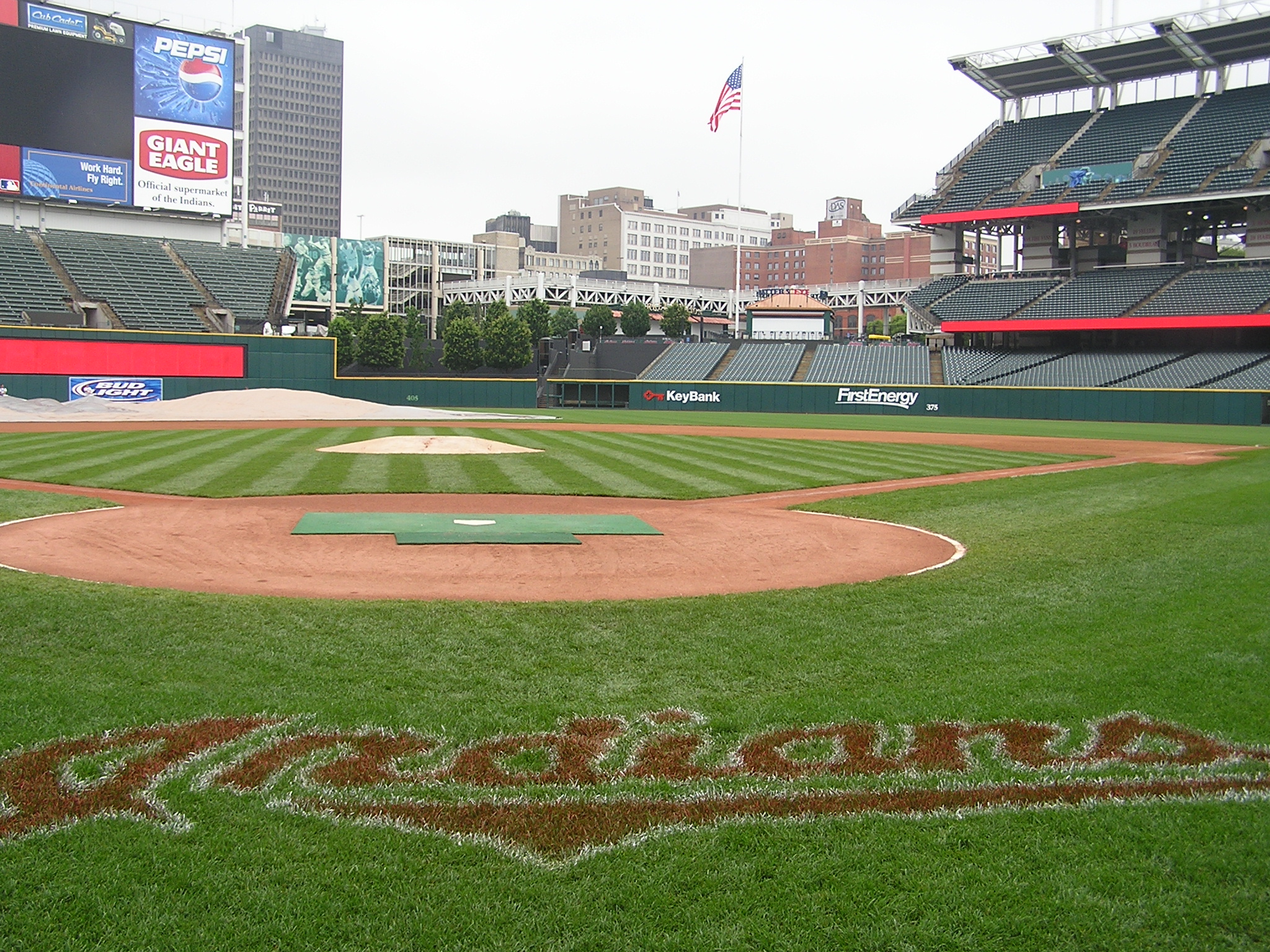 MY TAKE ON THE PARK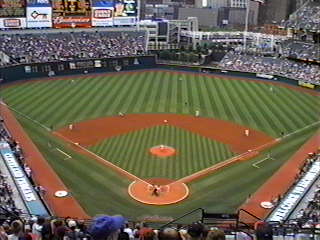 FOR SOME REASON I AM HAVING A VERY DIFFICULT TIME WITH THIS PARK. ON ONE HAND I'VE LISTENED TO PEOPLE TELL ME HOW THIS IS IN SOME WAYS BETTER THAN CAMDEN YARDS AND OTHERS WHO JUST DIDN'T LIKE IT AT ALL.
HOWEVER, AFTER GOING TO MUNICIPAL STADIUM I THINK THE PEOPLE OF CLEVELAND GOT A
REAL GOOD DEAL ON THIS PLACE.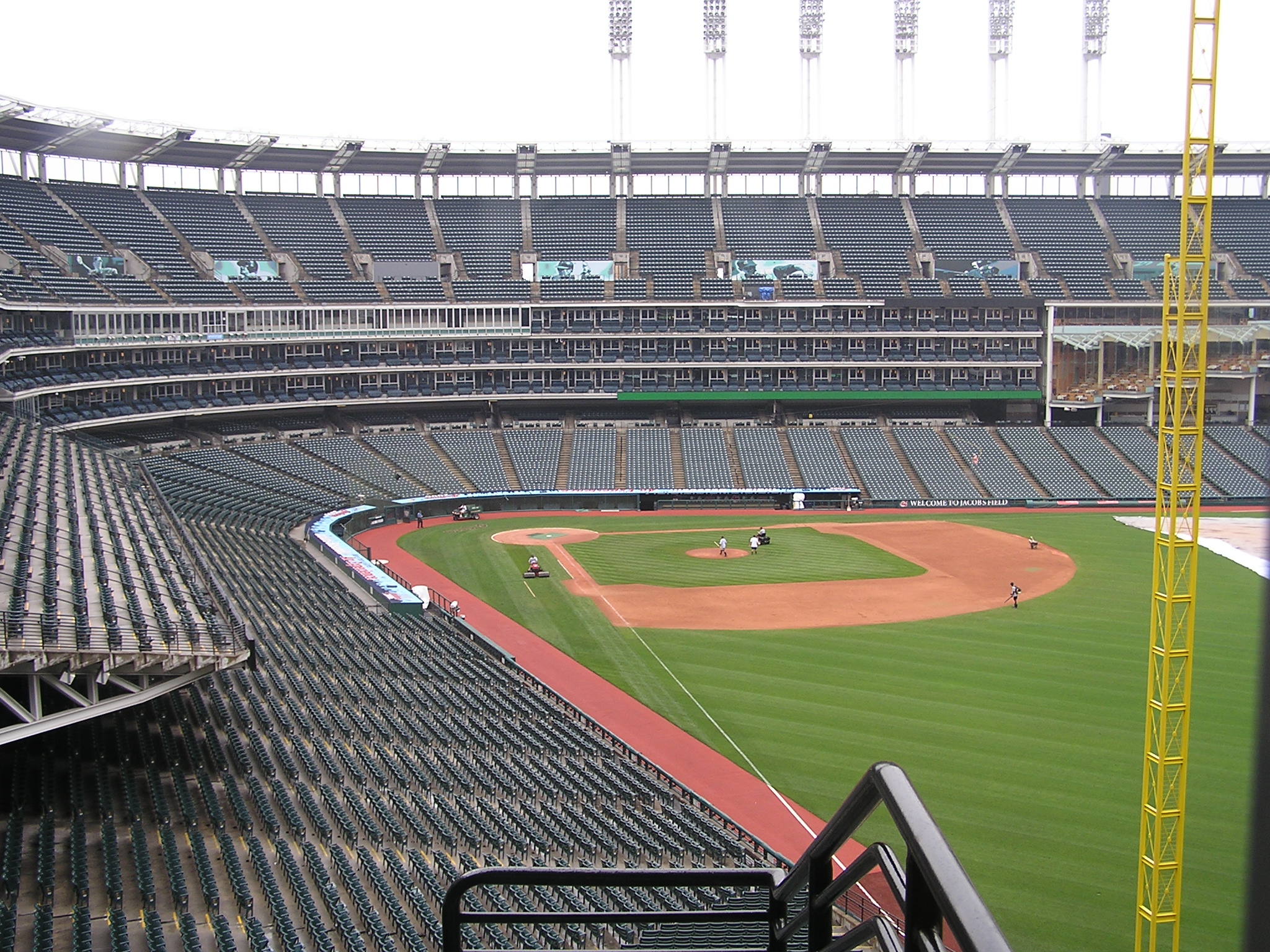 THE AREA AROUND JACOB'S FIELD COMES ALIVE ON GAME DAY. THE CITY OF CLEVELAND GETS OUT OF WORK AND HEADS ON DOWN TO THE BALLPARK, BUT THEY DON'T GO INSIDE. INSTEAD, THEY CONGREGATE WITHIN A 1/4 MILE OF THE PARK TO SAMPLE THE MANY RESTAURANTS AND WATERING HOLES THAT SURROUND THE PLACE. IT REALLY MAKES A SOMEWHAT MEANINGLESS JULY EVENING FEEL LIKE AN EVENT.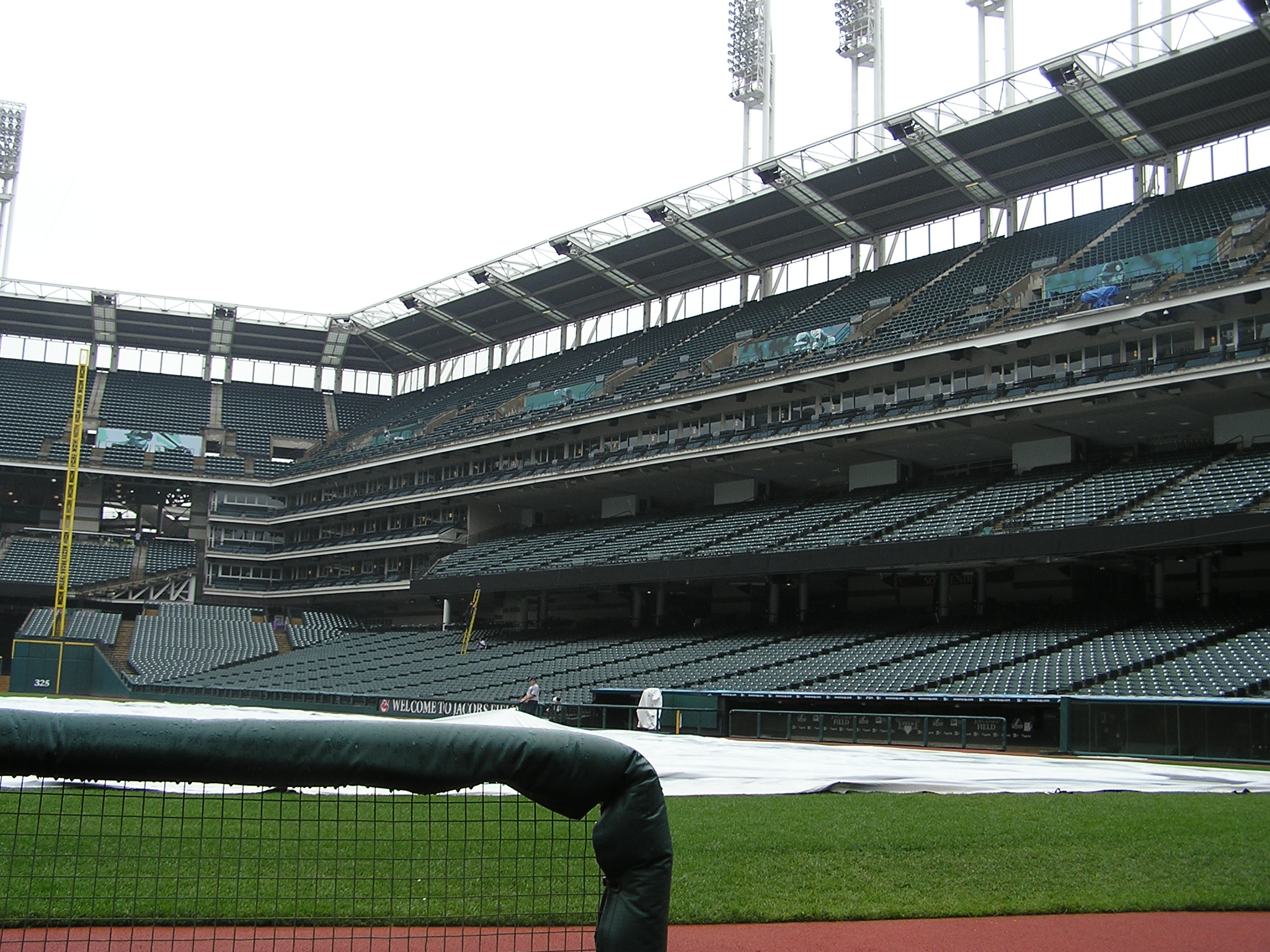 ONCE INSIDE YOU SEE THAT THE PEOPLE WHO WORK IN CLEVELAND MUST BE MAKING A WHOLE LOT OF MONEY. THREE LEVELS OF LUXURY BOXES FILL THE GAP BETWEEN THE LOWER AND UPPER DECK. I BELIEVE THERE ARE 100 LUXURY BOXES
IN ALL ... AND THEY SAY THE YANKEES MAKE ALL THE MONEY. I BELIEVE YANKEE STADIUM HAS ABOUT 30 BOXES.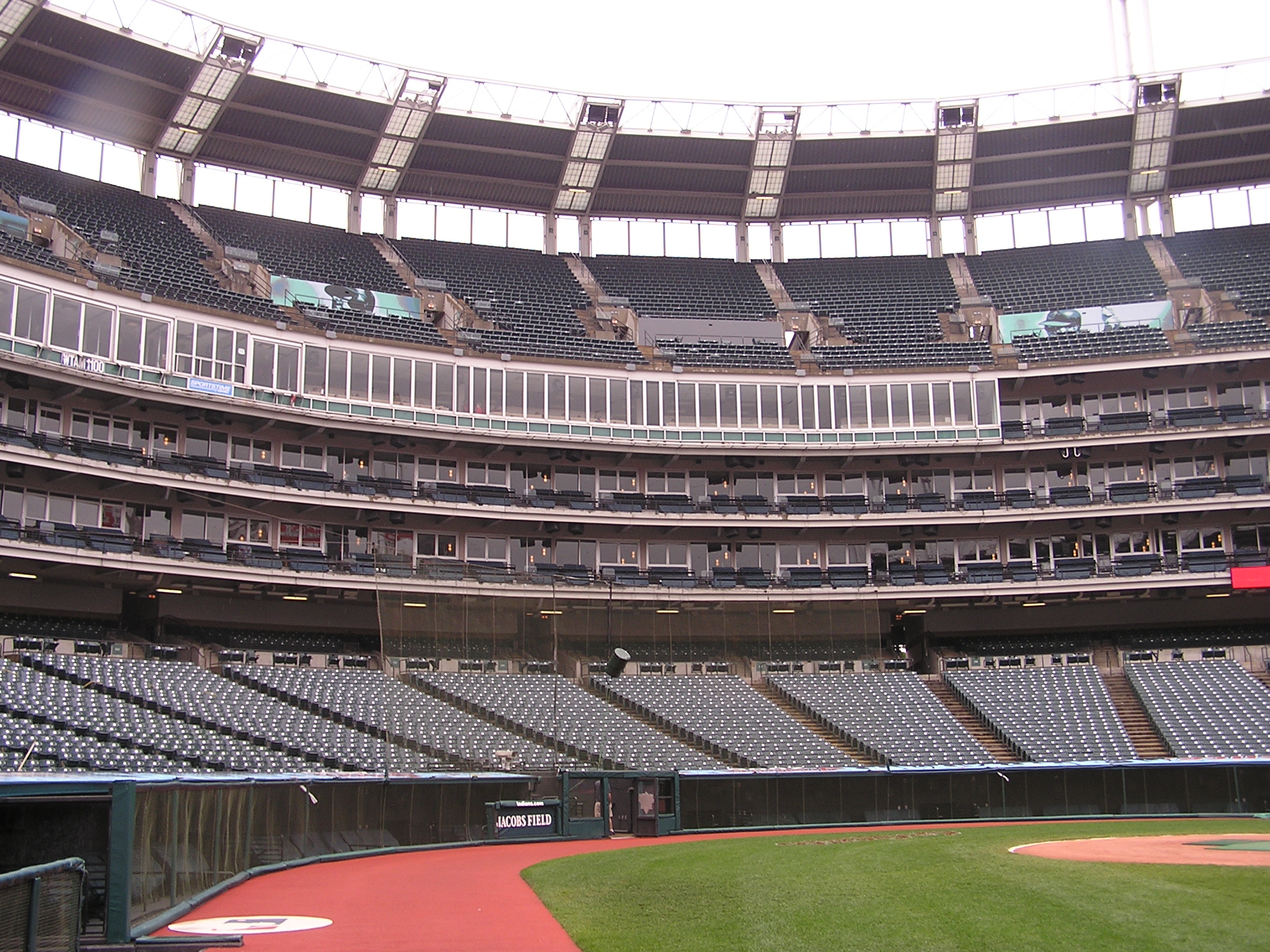 THE LUXURY BOXES GIVE THIS RETRO PARK A VERY HIGH UPPER DECK. I THINK I COULD SEE A CAVALIERS GAME IF I SAT IN THE LAST SEAT IN LEFT FIELD BETTER THAN AN INDIAN GAME. BUT AGAIN, 10 YEARS AGO THE PEOPLE OF CLEVELAND WERE A LOT HIGHER AND I'M SURE THE SEATS WEREN'T AS COMFORTABLE.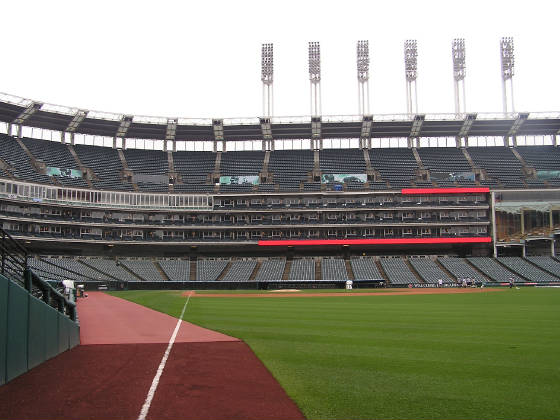 THE SCOREBOARD, WHICH DOMINATES LEFT FIELD, ALMOST TAKES AWAY FROM THE CITY FEEL OF THE PLACE BECAUSE IT HIDES PART OF THE SKYLINE. HOWEVER, INSIDE ALL OF THE SURROUNDING ADVERTISEMENTS IT DOES THE JOB AND I REALLY LIKE THE "INDIANS" ACROSS THE TOP OF THE BOARD. THE LINE UPS ARE DISPLAYED THROUGHOUT WHICH I ALWAYS FEEL IS NEEDED IN A NATIONAL LEAGUE
PARK BUT I WAS HAPPY TO SEE IT HERE IN THE A.L. BUT AS FOR PITCH COUNTS, THE BOARD IS EXTREMLY SLOW. SO SLOW THAT THE PITCHER SOMETIMES WAS GETTING READY TO THROW THE NEXT PITCH BEFORE THE PREVIOUS STRIKE WAS
DISPLAYED. ALSO, AND I WAS TOLD THIS BEFORE I WENT IN AND FINALLY FOUND IT IN THE 5TH INNING, THEY SCORE THE GAME WITH YOU. LIKE IN PHILLY, YOU NEVER HAVE TO WONDER IF IT WAS A 6-3 PUT OUT OR A 4-3. AGAIN, IT WORKS
BUT IT IS SO SMALL AND FRANKLY HIDDEN BY ADVERTISEMENTS THAT IT REALLY DOESN'T EVEN NEED TO BE THERE.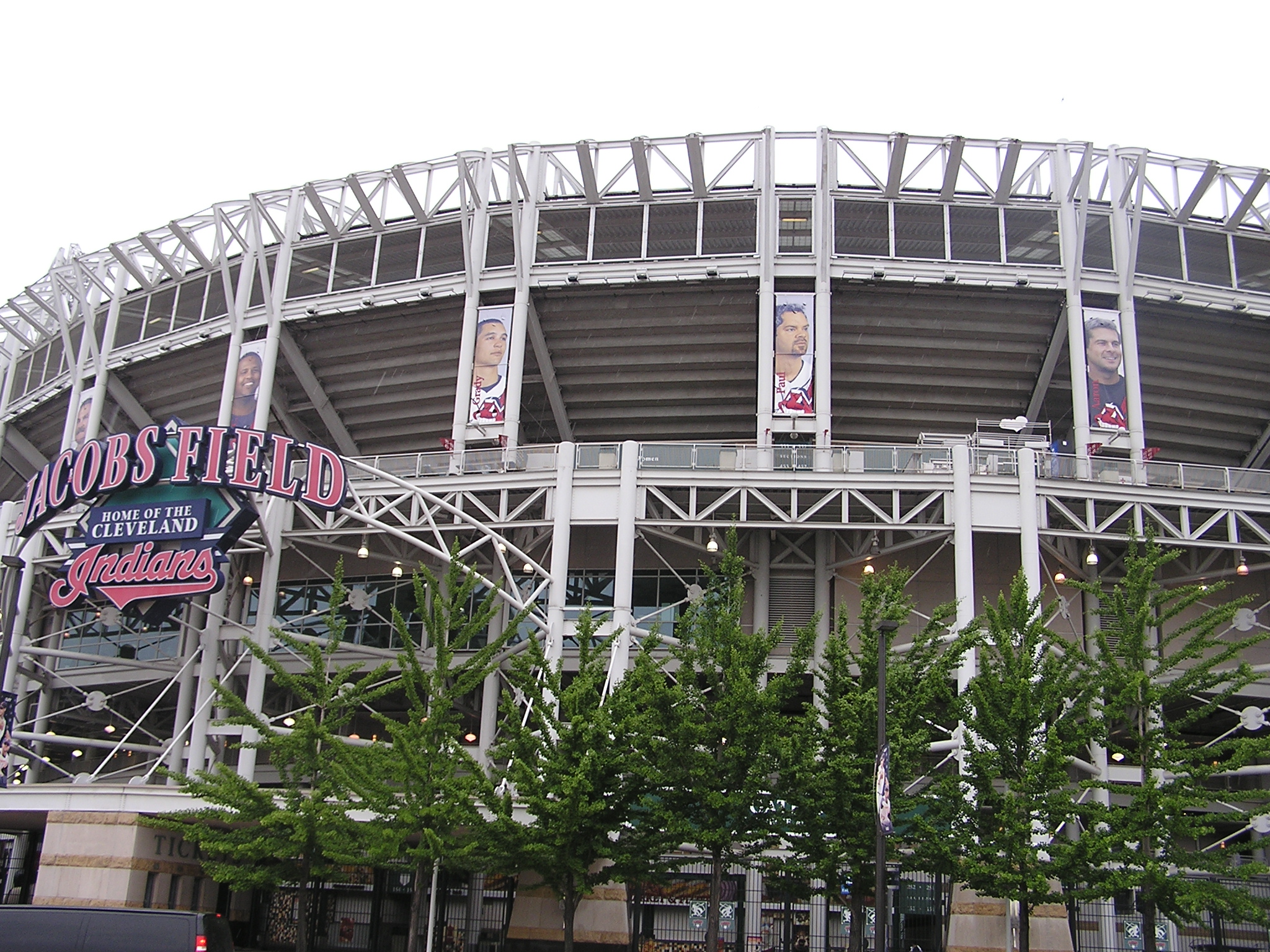 A TRIP TO 'THE JAKE' IS AN EVENT. GET TO THE GAME EARLY AND PARK IN ONE
OF THE MANY PARKING GARAGES AROUND THE STADIUM. BUT SINCE YOU'LL BE GETTING THERE 2 1/2 HOURS BEFORE GAME TIME YOU'LL SPEND AN HOUR OR SO IN ONE OF THE MANY BARS DISCUSSING THE CURRENT STATE OF THE TRIBE AND SIZING UP THAT DAY'S OPPONENT. ONCE INSIDE, DON'T KEEP STARING AT ALL OF THOSE YELLOW DOORS BEHIND THE CARPETING, IT'S NOT NICE. LOOK AT THE HUGE
SCOREBOARD, THE DARKER INFIELD DIRT THAN OTHER MAJOR LEAGUE PARKS AND OF COURSE, LISTEN TO JOHN ADAMS OUT IN THE BLEACHERS POUNDING HIS BASS DRUM EVERY TIME THE TRIBE GETS A RALLY GOING. IT JUST SHOWS YOU THAT THEY DIDN'T LEAVE EVERYTHING AT THE OLD PLACE, THEY ONLY BROUGHT THE GOOD STUFF.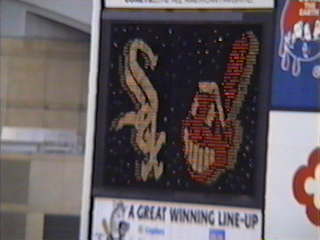 LINE UPS

WHITE SOX MANAGER :::
7 JERRY MANUEL

INDIANS MANAGER :::
22 ERIC WEDGE

CHICAGO WHITE SOX

17 Tony Graffanino 2b
45 Carlos Lee lf
35 Frank Thomas 1b
30 Magglio Ordonez rf
27 Carl Everett cf
14 Paul Konerko 1b
24 Joe Crede 3b
22 Jose Valentin ss
15 Sandy Alomar Jr. c
46 Daniel Wright p / LP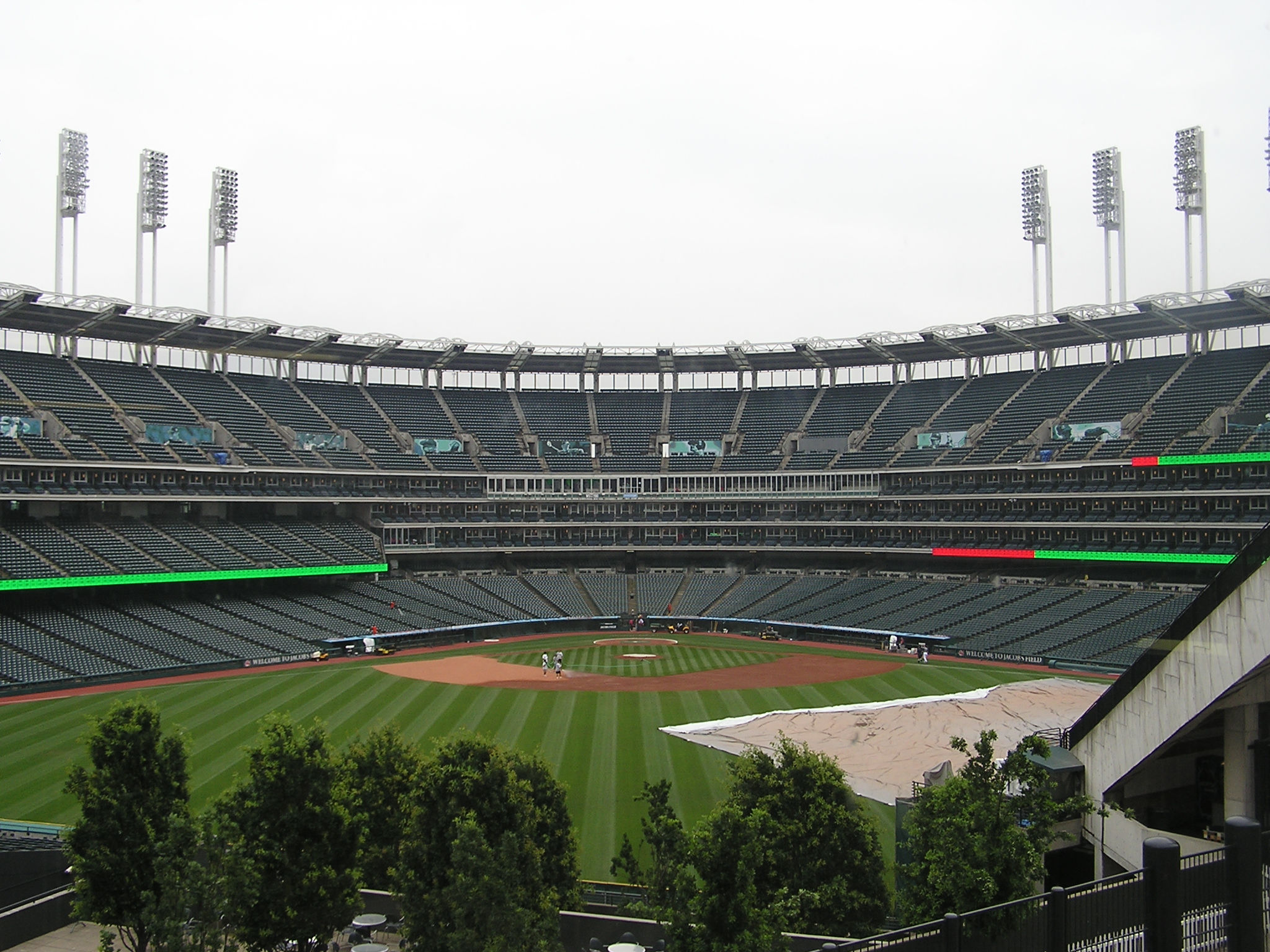 CLEVELAND INDIANS

10 Coco Crisp cf
11 Matt Lawton lf
24 Milton Bradley dh
9 Jody Gerut rf
1 Casey Blake 3b
28 Ben Broussard 1b
15 Tim Laker c
12 Ricky Gutierrez ss
7 Brandon Phillips 2b
31 Brian Anderson p / WP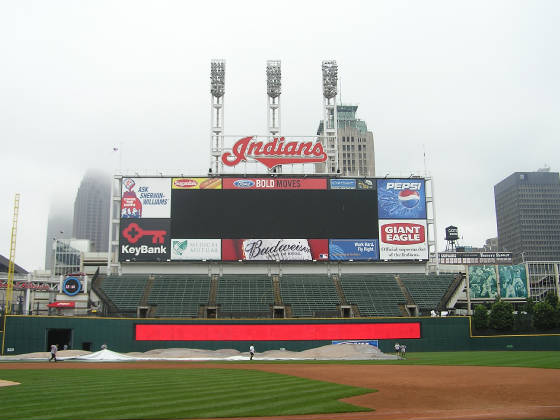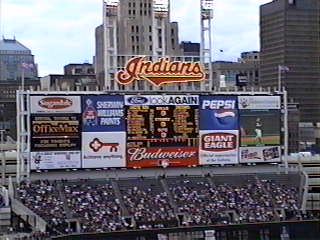 CHICAGO WHITE SOX 020 030 000 5 10 1
CLEVELAND INDIANS 015 020 22x 12 11 1

TIME ::: 2:50
ATTENDANCE ::: 27,712
WEATHER ::: 73 OVERCAST COOL
SEND ME AN E-MAIL

LINKS
The Official site of the Cleveland Indians
Where they used to play, my Cleveland Stadium site
MSN Entertainment Guide around Jacob's Field
You can now Buy Stadium Mustard .. Click here
The Tribe's 'AA' affiliate play at - Canal Park
The Tribe's short season affiliate - My Eastwood Field page
Cleveland weather from WEATHER.com

© 2000-2012 UNCLE BOB'S BALLPARKS
I AM IN NO WAY AFFILIATED WITH ANY OF THE TEAMS ON THIS PAGE ... THIS
PAGE IS MEANT FOR INFORMATION PURPOSES ONLY.